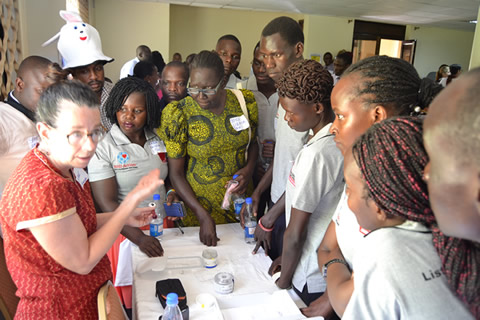 Rheumatic heart disease currently affects about 40 million people worldwide, mainly young adults with about 345,000 annual deaths. Unfortunately most of these deaths occur in developing countries like Uganda where we have previously found an annual mortality of 17%. This is mainly because most of our patients present late with advanced disease.
In 2010 Dr. Emmy and team started a registry to document RHD cases so as to improve their access to benzathine penicillin, access to treatment for heart failure and anticoagulation.
Dr. Emmy's PhD work then looked at different aspects of RHD in Uganda including the burden(5%), risk factors and outcomes.
He was joined in 2013 by Case Western Reserve University in a grant from Medtronic foundation which enabled his team to hire full time nurses for the registry to provide this care while the Uganda Heart Institute continued to provide heart failure and anticoagulation treatment. The collaboration that time involved the Joint Clinical Research center and Makerere University. Over time it has been joined by Children's National Hospital in Washington and expanded the research arm of the collaboration.
Recently the World heart Federation has joined the fight against RHD and they are cosponsoring this meeting.
The meeting was held to achieve the following objectives;
To increase awareness about the RHD problem in Uganda by engaging the public, media, partners and persons living with RHD.
To give more evidence to the ministry of Health and ask for their commitment to setup a RHD national advisory committee which will eventually develop the RHD national control programme.