Dr. Ruby Mcharo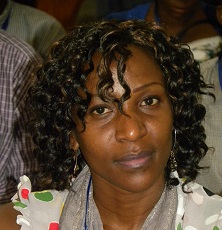 Dr. Ruby Mcharo
Ruby is a study physician and research scientist at the National Institute for Medical Research- Mbeya Medical Research Center (NIMR-MMRC), Tanzania. She also regularly lecturers at the University of Nottingham. Dr. Mcharo studied Medicine at Muhimbili University of Health and Allied Sciences before pursuing a Masters' in Public Health-International Health at the University of Nottingham, UK. She is an expert in human cohort studies and clinical management of HIV infected patients. Dr. Mcharo has been working with NIMR-MMRC since 2011 where she leads the clinical research activities of the DFG funded "HIV and HPV interaction" study. She also leads the NIMR-MMRC contribution to the collaborative setup of the National Cervical Carcinoma Screening Project in the Southern Highlands of Tanzania.
Project – The gateway to intervene – Understanding HIV and other Sexually Transmitted Infections and sexual behaviour among young adults attending universities in Mbeya region, Tanzania.
For her PhD, Ruby will study the prevalence of potential sexually transmitted infections and sexual behaviour among 18-24 year old university students in Mbeya, Tanzania.